Last night in Talbot County, Delegate Dan Cox (R Frederick and Carroll, District 4) kicked off his campaign for Governor of Maryland in the coming 2022 election. He was accompanied by his wife and hosted by Talbot County conservative republicans.
Cox, a father of nine, grew up on a farm along the border of Frederick and Carroll counties, "working his way through college at Mt. Saint Mary's College and the University of Maryland." He later attended law school. As a law student, he focused on Constitutional Law and, ironically, wrote his law school thesis on Fourteenth Amendment protections against mandatory government vaccinations. In December, 2020, Cox used his sixteen years of legal experience to represent Clarksburg Tavern LLC against the Montgomery County Executive after the latter shut down restaurants just before Christmas due to COVID concerns.
In the recent past, Cox – who espouses a conservative philosophy of "limited government, jobs & small business freedom, economic growth, and the Constitution" – voted for Resolution HB0002 to end Governor Hogan's State of Emergency and HB1150 Banning "Vaccine Passports." He introduced HB 1058 – a bill that narrowed the State's definition of "total real property tax," and requires the Comptroller to refund to taxpayers any tax collected under the broader definition.
In 2020, Cox served as a Presidential Nomination Alternate Delegate for President Donald J. Trump. During the presidential campaign, he volunteered to travel to Philadelphia for three weeks as part of a team of lawyers for Trump to monitor and fight for election integrity, specifically identifying votes that did not conform to signature and other requirements. During his discussion last night, Cox's dismay at what he witnessed in Philadelphia, including evident mail-in and voter identification abuses, was evident. He is against "sanctuary cities" that allow non-citizens to vote in elections and offer protection from removal for aliens in the country illegally.
Cox also outlined his dismay for the Hogan administration's handling of the pandemic and ambivalence toward Critical Race Theory. He made clear that he opposes the superficial and socially divisive doctrines that CRT promotes. He is against forced masking and affirmed his belief that vaccinations are a personal choice and that the doctor-patient relationship is a sacred one into which the State should not be intruding.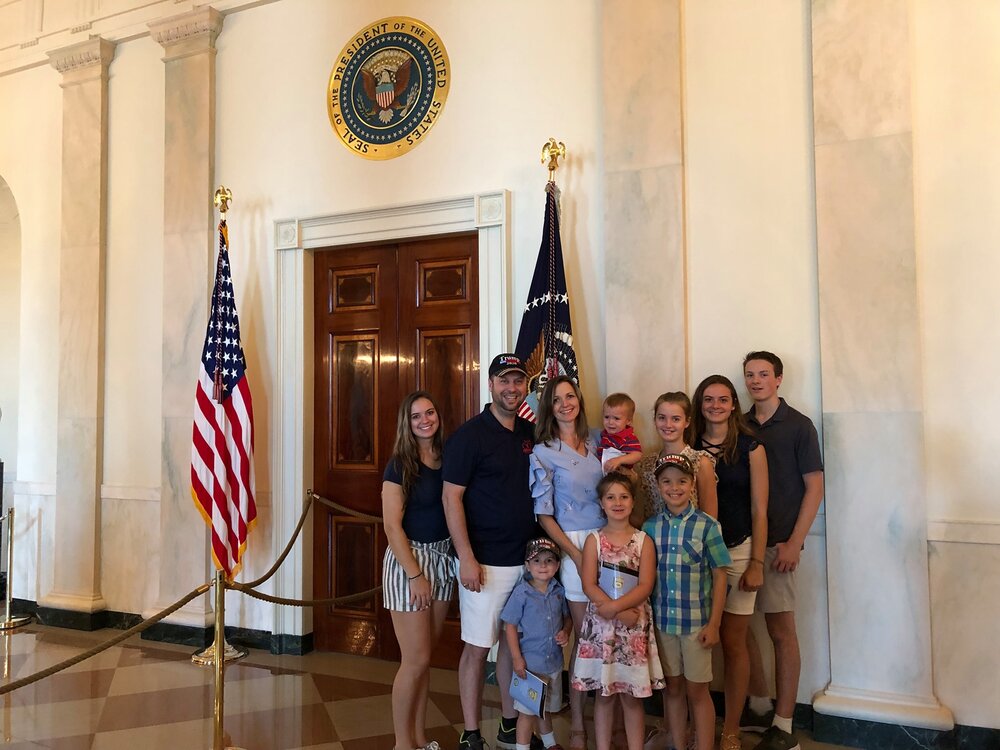 The Cox family during a 2019 visit to the White House.
Cox is one of two Republicans who have announced runs for the Governorship. Kelly Schultz, a Hogan appointee, currently oversees the agency for State workforce development and job growth. Shoretimes will be keeping up with Cox as the campaign season begins.
For more information on Dan Cox's Plan for Maryland text Cox to 797979 or go to coxforfreedom.com